Here's a gallery of the commissions I did at LTUE. But before we start with the pictures, here's a photo: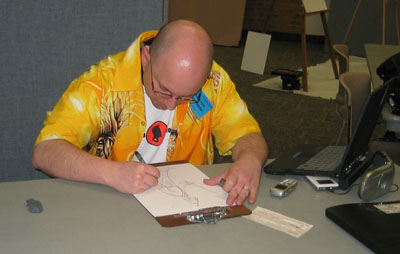 That's me, hard at work. I'm drawing a commissioned long-legged pseudo-hominid for a role-playing game. You can see my phone, my iPod, some battery-powered speakers, and my laptop all keeping me company there to my left. Off-camera to the right is my pile of art supplies.And now for the FUN pictures...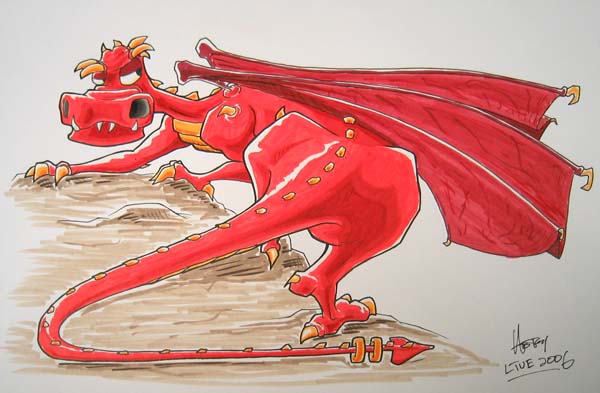 This first picture was done for Charlene Harmon, one of the foremost names in Utah SF Conventions. She wanted a "red-and-gold Dragon," which creature apparently features prominently in some of the Harmon family's RPG campaigns. Charlene's commission was my first of the event, and drew just the right kind of attention.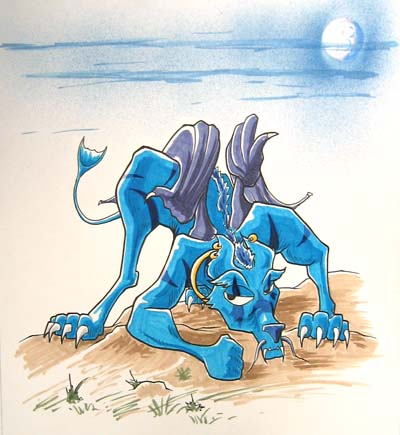 This next picture was a result of Charlene's dragon. Valerie stopped by and asked how much it would cost to do a rendition of her blue dragon. I told her. (I'm not telling you, but I will say that commission prices at this event ranged between $10 and $40). She provided me with some reference pieces by other artists, and then she said that for a pose she wanted it "stalking." I settled on a "sneaky crouch." I also used the airbrush attachment to spatter some sky for "mood."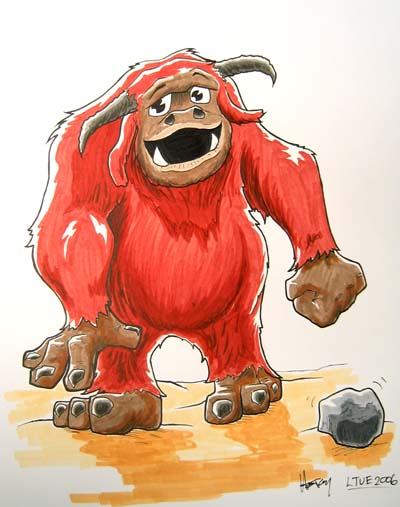 Alita Clegg tells me that her son often plays "Ludo" as a character in their family's RPG campaigns, and plays him to the hilt -- right down to the "Rocks Ludo's FRIENDS" lines. So I used my laptop to summon a reference picture (the character is from the movie Labyrinth, and whipped up a commission. Everybody loved this one. But then everybody loves Ludo. I did several Schlock pictures at the event, and as mentioned in an earlier entry I ran out of Schlock-colored ink. Here are two of them.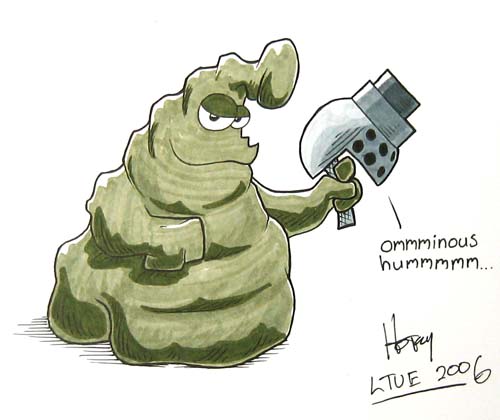 The one above with the "ommminous hummmm" was for a family full of kids who don't read the comic much, but who think that noise is just hilarious. The one below with the multi-cannon was for a guy I grew up with back in Florida, and who now lives here in Utah and works at the Space Education Center helping gradeschoolers LARP. He and I could argue for hours about which of us grew into the bigger geek.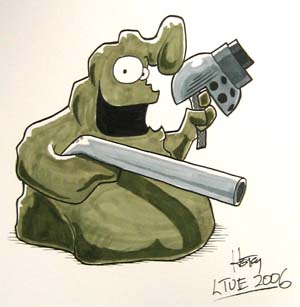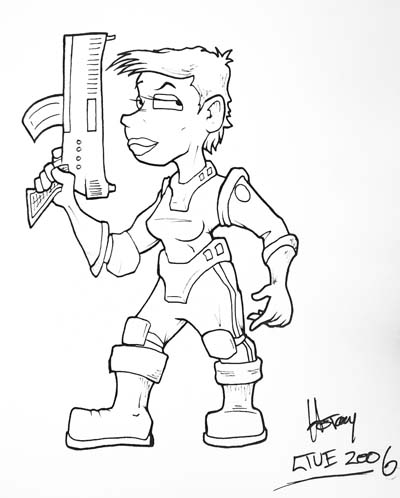 During the "Have someone else draw your character" panel I did several pencil-only pieces. Two of them resulted in "please ink this" commissions, and here's one: it's a space-halfing.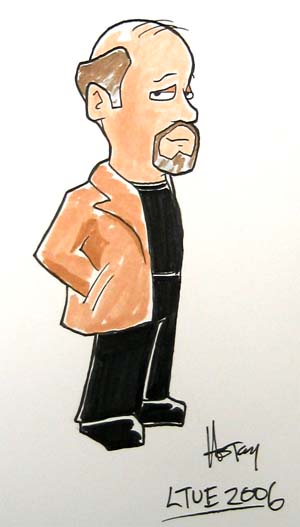 When I attend these conventions I always like to give custom artwork to the Guests of Honor. I wasn't able to do one for everybody, but I did manage to whip out a Kevin J. Anderson caricature for Kevin J. Anderson.