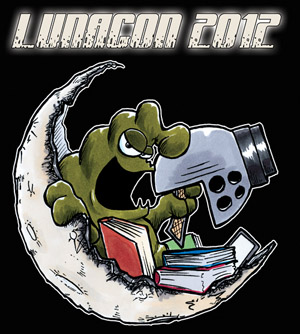 Thursday I leave for the great state of New York, wherein a humble little awesome convention called Lunacon has invited me to be their Artist Guest of Honor. In exchange, I've provided them with badge art, t-shirt art, program book art, art-show art, and of course me and my big mouth.
The link above will get you the convention details, should you decide to come up. The schedule below will help you find me in the event that you find yourself there. Which you totally should. I don't get this far east very often.
FRIDAY
5:

00pm

: Opening Ceremonies, Grand Ballroom North. I may say a few words. They'll be clever, I'm sure.
8:

00pm

: Meet The Pros, Grand Ballroom North. Drinks and stuff, and lots and lots of talking to zillions of cool people.
SATURDAY
10:

00am

: What's Hot - Podcasts, Westchester Ballroom

A2

. Dan Wells and I will totally represent the Writing Excuses team on a panel with Jim Freund, Glenn Hauman, Kate Baker, Gail Martin, and Keith DeCandido
11:00am: Autograph session, Westchester Assembly. Come get your merch sketched. We'll have books available in the Dealer's Room from Devra at Poison Pen Press.
1:00pm: Guest of Honor speech, Grand Ballroom North. An hour of me and my big mouth. With slides!
5:00pm: Schlock Mercenary Capital Offensive, Town of Rye II. I'll be there for two hours playing my early demo copy of the new Schlock Mercenary board game.
SUNDAY
10:00am: What's Hot - Webcomics, Westchester Ballroom A2. I'll be talking up my medium's distribution niche with Joshua Kronengold, Marc Abbott, and James Chambers
11:00am: Nerd Pictionary, Westchester Ballroom A3. I'll be playing pictionary with Heidi Hooper, Steve Hickman, Alan F. Beck, Catt Kingsgrave, and Alexis Gilliland. I have no idea what the rules are, but I expect markers and mayhem.
1:00pm: Book Raffle, Grand Ballroom North. My friend Lawrence M. Schoen will host this event with my help, which is scary because I don't speak a single word of Klingon. Yet.
3:00pm: Closing Ceremonies, Grand Ballroom North. If they ask me to speak I will, but I expect my welcome to have worn quite thin by this time.
As mentioned above, I'll have merchandise in the Dealer's Room. Look for Poison Pen Press. We've shipped out some bundles and some loose copies, so you should be able to fill out your collection of Schlock books without having to worry about paying for shipping. And of course I'll draw in any of those books absolutely free. Have Sharpie, will travel.
Finally, if you want up-to-the-minute (when-I-remember-to-update) information, follow @howardtayler on Twitter.