Good news, all the way around. I know, I know... "nuclear winter" doesn't sound like good news, but it is. I'll get to that last.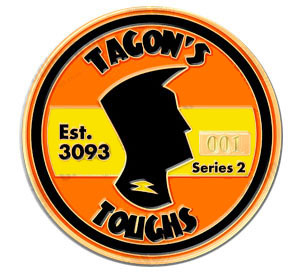 Minter: I spoke to our manufacturing rep early last week, and the production of Schlock Mercenary challenge coins is on track. They're being struck in brass, electro-plated, enameled, and epoxy-domed as I write this, and all 30,000 coins are due to ship from the factory on May 20th. UPS will, in theory, deliver these to my door on May 22nd, the same day I leave for Phoenix Comic-Con. Will I have samples of all the coins at that event? MAYBE. But when I get back, roughly a ton of carefully-configured brass, enamel, epoxy, and packing materials will be waiting for me to hahaha, no. They won't be waiting for ME to do anything. I shall stand back and let Sandra, her trusted lieutenants, and perhaps a few minions begin the shipping process. My job? Feed the children, make more comics.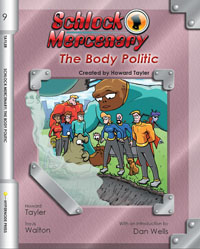 Printer: The ninth book in the Schlock Mercenary series, The Body Politic, went off to the printer late last week. Sandra replaced a couple of corrupt files just this morning, and that project is tentatively scheduled to arrive at our door in late July. We'll open pre-orders in late June. This book has lots of bonus material in it, but it does not have a full bonus story like the others. Why not? I shall be frank: the story I was working on turned out to be boring.
So instead of fleshing out the universe with twelve pages of pictures wrapped around a low-stakes, who-cares kind of plot, I fleshed out the universe with a bunch of fresh, hilarious, science-filled footnotes. Do you want to know how Boomex compares to Composition Four? Do you wonder how grey goo and zombie plagues impacted human politics? Are you interested in flying a kite on Mahuitalotu? This is the book for you. There's more, too, but I'll make the full pitch when we open pre-orders.
Nuclear Winter: The doctor called me 30 minutes ago to give me some good news. The clostridium difficile, whose aliases include "c.diff" and "CDI," has been completely cleared from my poor, beleaguered intestinal tract. Right now Whoville (as I lovingly refer to the colonies of biota that live in my gut and help me digest things) is a nuclear wasteland, and I've been throwing back Yakult, Goodbelly, two brands of Kefir, and pretty much anything else I can choke down that says "active cultures" on it. I counted -- there are 28 different strains of lactobacillus, acidophilus, and other tiny yoppers moving back into Whoville, but conditions down there have been pretty hostile until very recently. I'm on the mend, but food doesn't yet work for me the way it used to. Still, every day is better than the last. This week I may have strength enough to make it back to the gym.
Last week, low-blood-sugar notwithstanding, I cranked out two weeks of comics, polished off the last image and text edits for The Body Politic, and did a day and a half of conference attending. So, you know, I can't really be THAT sick. Sure, I go a little light-headed trying to run up a flight of stairs, but sit me down with a stack of scripts, and I can still draw. In fact, sit me down with a stack of scripts and you have to work pretty hard to get me to NOT draw. It's this thing that I would do anyway.