Gen Con Indy, Booth 1553. We've got so much cool stuff for you this year.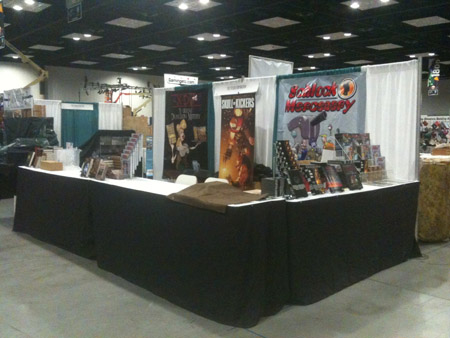 For starters, those of you who already own XDM: X-Treme Dungeon Mastery can gain yet another level of XDM by collecting the signature of Jim "Taking This Beer For The Team" Zubkavich, who colored the cover art.
Jim has Skullkickers Volume 1: 1000 Opas and a Dead Body for just $10. This, as I've said before, is the fantasy comic I wish I'd written. And with the release of Issue 12 in October, it will be the fantasy comic I got to write for.
Jim's also got limited edition prints, some rare 1st-printing Issue #1 copies, and a very few convention-exclusive Volume 1 hard-covers.
I've got all the Schlock I've been telling you about for weeks. Bundles of all seven books, plenty of copies of book 7, plus stickers, dice, Writing Excuses DVD-ROMs, and shopping bags.
And of course we'll be sitting with the star of the show, Tracy Hickman, who'll have several novels available for sale, and will sign anything that was printed with his name on it. Come early, there's often a line.
So... now you know how to find our booth. Come see us! Jim and I will both be doing commissions, I might be inking some comics I didn't finish up last week, and as always I'll do a free sketch in the back of any Schlock or XDM you pick up.