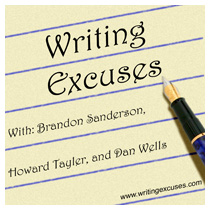 This week's Writing Excuses is my favorite episode yet. Why? Well... I brought my iPod along, and fired up the stopwatch, so we could all see exactly how much time we'd spent.
This really kept us moving. And it's fitting, because we were talking about pacing. This is fifteen very lively, content-filled minutes of podcast, and my iPod's stopwatch should get credit in the liner notes.
In related news, The Salt Lake Tribune interviewed Jordan Sanderson (the Writing Excuses webmonkey and audio guy) and me for an article about podcasting in Utah. Yeah, it's a "slow news day" piece, but that's really the only kind of day I want to make the paper.