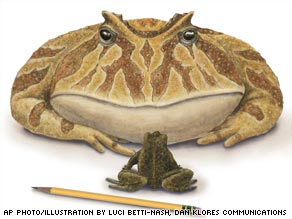 Here's the CNN article: Ancient Frog Was As Big As A Bowling Ball
Neat fossil! I love the name "Beelzebufo!" Here's the problematic argument that its discoverer presents to us: since the fossils of Beelzebufo ampinga, the giant Madagascar frog, indicate that it is related to modern South American toads, then maybe Madagascar and South America were not completely separated by ocean(s) as early as we think they were.
Here's Occam's Razor, Please Shave Often: It's more likely that Beelzebufo is a cousin, not a grandfather to the Ceratophrys. Instead of looking for land bridges, you should be looking for giant frog fossils in South America. I mean, you can look for land bridges if you want to, but I'll bet you find more giant frogs first.
Hopefully this alternative explanation is just something CNN failed to report.