I'm doing my friend Dan Wells a horrible injustice here. I'm reviewing two of his books in a single post – books which I read as ARCs (Advance Reader Copies, typically handed out to distributors, book reviewers, and insufficiently-appreciative web cartoonists) – and I'm doing it well after one of the books in question has hit the streets.
The worst bit is that in my opening paragraph I not only failed to mention the titles, I made it sound like I'm reviewing these tomes out of some sense of over-procrastinated responsibility, rather than making it abundantly clear to you, fair reader, that both of these novels are brilliant.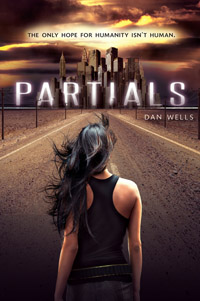 Partials
is powerful, post-apocalyptic science-fiction. I started it twice because the opening scenes in which our milieu is established were so evocative, so gut-wrenching that I was genuinely worried for what Dan had in store for me once the book really got going. You see, the plague killed all but a few tens of thousands of humans, and now none of our babies live more than a few days. Humanity is done for, but Dan doesn't just wave that at you. He makes you think long and hard upon the ramifications of what it would be like when all of the children have grown up, and
there will never be any more.
I'm glad I pushed past my twisted innards and kept reading. I loved it, and am excited for what comes next in the series.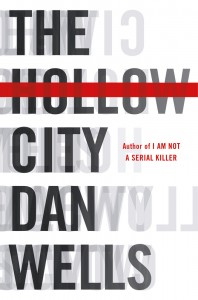 The Hollow City
, is not a Partials sequel, nor a sequel to anything else Dan has written, but it is what comes next in this blog post. Also, it hasn't come out yet! The street date is July
3rd
.
Here's the pitch Dan gave me over a year ago: our protagonist is a mental patient who arrives at the disturbing conclusion that some of the monsters he sees are real.
Are you sold yet? I was sold on the pitch alone, long before Dan had finished writing the book, and he totally delivered the goods.
The Hollow City
is a psychological thriller that had me up all night. It's part horror, part
sci-fi
, and part "pharmacist procedural." That last isn't an actual genre, but only because
The Hollow City
hasn't hit the streets yet.
You should earnestly seek to acquire and read both of these books. They're entertaining, affordable, and they'll both leave you a better person for having read them. Of course, you're already a fine human being, a wonderful individual, as evidenced by the fact that you're here reading this. And as someone of this caliber you are acutely aware of how much even the very best among us can improve by reading more good books.