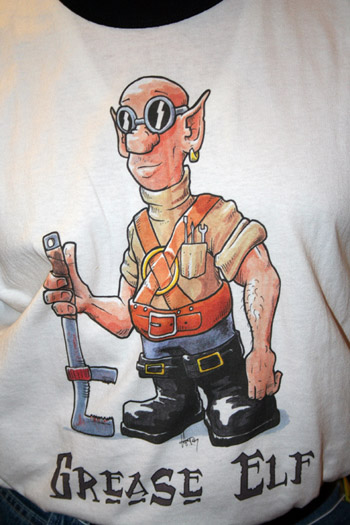 Sunday, April 22nd, 2007, arrived while I was still wide awake. Daybreak, however, found me a mere three hours after I'd tucked in for bed. Bleary-eyed and stupid from sleep deprivation, I decided to get up, have breakfast, and get to work.
I also decided to wear my new shirt. Derek from Mystprint brought a laserjet screen-printer to the convention, and was printing shirts and other things on demand for people. I was dubious at first, but I brought a thumb-drive full of images just in case.
On Saturday afternoon he delivered the shirt I'd had printed for myself, and Sunday morning I stopped back by his booth to let him get a picture of it. I'm not sure what, exactly, a "Grease Elf" is, but it's not a wood elf, high elf, or dark elf, and I'm betting that wrench is magical.
I saw at least three other people with designs of mine wearing their shirts at the convention. I provided images to Derek, and he gave me a percentage of the gross sales featuring those designs. Ah, sweet capitalism. Better yet, I have a new favorite shirt. Thanks, Derek!
The sales that morning were kind of slow, but I soon realized I was very likely going to run out of books. As it turned out, I sold all but two of the books I had, and then decided it was time to start packing my table up. Once it was all packed I collapsed in a chair in the lobby, and, very satisfied, announced to the small group there that I'd sold all but two books.
Two of the people in that group wanted to BUY books, and it turned out they needed the ones I had. So I sold Joe the Pirate and Doug the Aegis Swordsman my last two books, right out of my suitcase.
For the next hour or so I hung out in the lobby talking with friends new and old. I missed the gripe session, deciding instead to have pleasant conversations. Then it was time to go... I hit the road for Haven: 3-acres of peace, tranquility, and firing range. I rode with a guy everyone calls "Cujo," and I fell asleep in the car.
The Aegis folks had decided on a post-convention barbecue. I talked with Sal about it and realized that they were going to be passing the hat around in order to acquire the necessary sundries, so I decided to share the wealth a bit. Sal and I went to the grocery store, and I footed the entire bill. Honestly, for all the hospitality I'd been shown by these people, a hundred bucks worth of steak, burgers, fish, and assorted side-dishes really was the least I could do.
Upon my return from the grocery store I announced that I was going to take a nap, and exercise my "I bought it, you cook it" prerogative. This was critically important, because I was operating on about 8 hours of sleep over the course of the previous 72 hours. Unfortunately I only slept for about 30 minutes, after which time I wandered around outside wondering why people kept looking at me like I had a monkey on my head. As it turns out, they were looking at me wondering if I was going to fall down. The monkey had nothing to do with it.
There were 20 or so people at the barbecue, and over time and the course of several entertaining conversations it tapered to 15, 10, and then just three-plus-me and Sal. I played with the fire a lot (after waking up enough to be reasonably confident that I'd be playing WITH it rather than IN it), and went to bed at about 1:30am smelling like smoke.
Sal and I planned to leave for the airport at around noon. Thus I woke promptly at 11:30, feeling much better for 10 hours of sleep. We had lunch at some Canadian-style franchise (I had stew and a wheat-roll), and then I boarded an uneventful flight home. On the plane I began reading Glasshouse by Charles Stross, a book I picked up from the hands of the author at Penguicon that morning. It is brilliant, and kept me occupied for pretty much the entire flight.