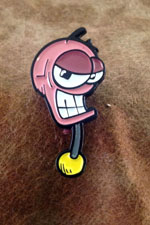 The Ennesby and Petey pins are in the store now, along with the new Tagon pins which did not arrive in time to debut at FanX. While you're on that page, you can find lots of other goodies, including mouse pads, dice, scratch-and-dent discounts, and even Schlock Mercenary originals, in all their black-and-white glory.
Another short story of mine went live today over at Skull Island X. It's in Volume 3 of the Iron Kingdoms Excursions, and it features some of my favorite creatures in that universe -- the farrow, the gatormen, and the swamp gobbers. Also for Privateer Press fans, I'll be attending Lock & Load in June, so if you're there, you might get to turn my farrow army into tasty bacon. I'm planning to get in more games at L&L than I managed to play all last year.
Three marker-originals are available, to be lovingly hand-rendered by me in the inside cover of the ALTERED PERCEPTIONS hardback. There used to be four of these, but one of them has already sold. ALTERED PERCEPTIONS will also include a short story in which I let you inside my head while my brain is not working correctly, as well as an essay by Sandra which will reveal what this sort of thing looks like from her perspective.