If you want in on the Planet Mercenary Role Playing Game, the Kickstarter closes just 13 days from now, on the morning of Monday, May 18th. Be warned: For the next two weeks you'll probably hear from me a lot on this front. I owe it to the fans, and to my fellow creators to do all I can to drum up as much support for this as possible.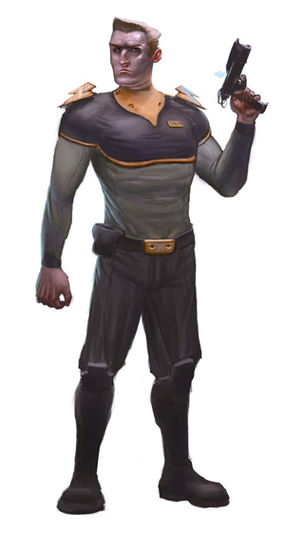 Whether or not you role-play, The Planet Mercenary Role Playing Game will be the definitive encyclopedia for the Schlock Mercenary universe. It will painstakingly (and humorously) detail the interesting places and cool technologies I've cartoonishly rendered in the comic, and it will flesh out a few key characters of the comic, rendering them as if my comics were crude caricatures of real people.
Of course, commissioning these pieces takes money, which is why we turned to Kickstarter. We'll be paying our artists up front, and doing our very best to treat them right. We commissioned a few pieces before the project launched in order to prove to ourselves that this would work, and we're now confident that the Planet Mercenary book is going to be a fully immersive look at this universe I've been struggling to render for fifteen years now.
Pictured to the left is Felipe de Barros' rendition of Captain Tagon. The deep-set eyes, the stiff spine, that brick-like face... it's all there.
If you've ever wondered what an amorph would look like in real life, I have a secret: I've wondered that too. I'm excited to find out. I expect to be scared of Sergeant Schlock. He is, after all, a monster.
As an added incentive to participate, if we raise another $18k in pledged support there will be two books produced. The second one will be Karl Tagon's personal, annotated hard-copy of the 3001CE edition of The Seventy Maxims of Maximally Effective Mercenaries. He loaned it around, and a couple of other people have written in it.