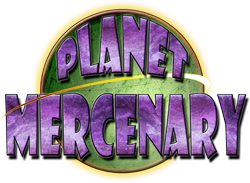 The Planet Mercenary Kickstarter closes Monday Morning at around 2pm Eastern time.
If you're still on the fence, and don't want to miss out, pledge a dollar.
We'll be using Backerkit to allow people to increase their pledges, and to specify the things they want, and you'll have until at least mid-June to settle up.
The Kickstarter page is a long, involved, possibly confusing thing. Here are some easy links: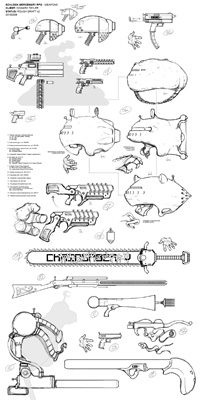 Seventy Maxims: Click here if you want to pledge for the hardback copy of The Seventy Maxims of Maximally Effective Mercenaries. It's $20 in the US, with additional shipping for Canada and the rest of the world.
Company Commander: Click here if you want everything—RPG book, cards, dice, screen, PDFs, the Seventy Maxims book, and more. It's $75, and you'll need to increase your pledge by $10 to get the RiPP token add-ons, but that can wait until June if you'd like. This is by far our most popular pledge level. Again, additional charges will apply for shipping outside the US.
RPG PDFs only: Click here for the "Air Dropped Grunt" level. This gets you the core RPG book and the cards in PDF format. This is $20, with no shipping charges at all. Note that this does not include the Maxims in PDF format, because we're not doing those as part of this Kickstarter.
Foot in the Door: Again, here's the $1.00 pledge level, the "Forward Observer." It gets your foot in the door so that you can increase your pledge to cover any of the rewards I've listed above. If you decide you don't want this stuff after all, well, you're out a dollar, but at the very least you'll get some nifty wallpapers for your trouble.
If you don't play RPGs, but have been looking for a good encyclopedia of the Schlock Mercenary universe, the core Planet Mercenary book will deliver that in spades. It's an in-universe artifact, written by the R&D team at Planet Mercenary. Their CEO's commentary will appear in the margins (she was promised those would not go to print, but somebody screwed up) and we'll have plenty of references to things that have happened in the Schlock Mercenary comic strip, as told from the perspective of folks on the outside.
This Stuff Ships In April of 2016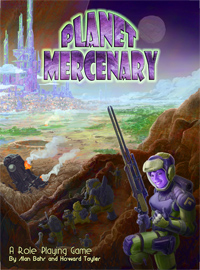 We have a lot of work to do before we can deliver the goods you're pledging for. The artists have barely started their work, and at least one of the manufacturers has a 26-week cycle. The Planet Mercenary Team (Howard, Sandra, Alan, Jeff, Ben, and a bunch of other folks) will be working on this for the next ten months.
Between now and the shipping date we'll keep you in the loop with regular blog posts here, in the development journal (schlocktroops.com), and via Kickstarter updates. We'll post lots of digital goodies between now and then, including pre-release rules, draft images (like this early draft of Jeff Zugale's cover art) and probably plenty of fun desktop wallpapers.
Thank You
This has been one of the most successful role playing games to appear on Kickstarter. Your faith in us is humbling and a bit intimidating, and we promise that you have not misplaced it. You backers have made this crazy, wonderful thing possible, and in about three days we'll start our journey to carry it from "possible" to "wonderful and in your hands."
Thank you for giving us that opportunity.
This is going to be so. much. fun.