Pre-orders for Schlock Mercenary: The Blackness Between are now open!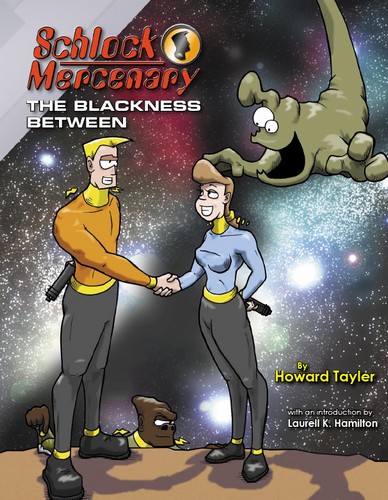 Head on over to store.schlockmercenary.com and place your pre-order now. All pre-orders will ship during the third week of November, but you will immediately receive access to the Schlock Mercenary: The Blackness Between desktop backgrounds, which are based on the wrap-around cover art (you're seeing HALF of the cover art in the picture above. Wondering what that diagonal grey patch is in the upper left? Get your answer with a pre-order!)

If you want to pre-order a sketch edition, those are available until 8:00am Mountain Daylight Time on Wednesday, October 18th. We are not limiting these by number. We are limiting these by "as many orders as you maniacs can place in a 24-hour period, one per customer please." All sketch editions will be stamped and hand-numbered (stamped with the total number, hand-numbered for which one this is).

Please note that I can't promise that the first people who order sketch editions will get low numbers. It's a crap-shoot, people.

One more thing: if you buy a book from me at a convention, or bring your copy with you to a convention I'm attending, I'll put a sketch in it for free. It won't be numbered, though.