Our fulfillment folks over at Game Salute have opened pre-orders for Schlock Mercenary: Capital Offensive, the tactical board game whose Kickstarter project many of you helped to fund.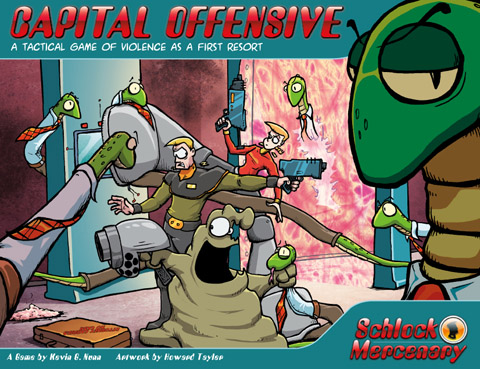 Use the discount code SCHLOCK-US for free shipping in the United States, and SCHLOCK-INT for a $10 discount on international shipping.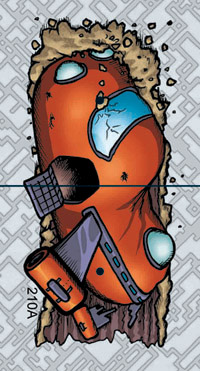 Game Salute anticipates shipping your game to you in June.
While it's not quite as cool to pre-order as it was to support the Kickstarter project, you can still get some of the extras the Kickstarters got. All pre-orders will receive two promotional punch boards (which include extra floor tiles for bigger games), an additional scenario, and three additional characters -- Andy, flying Schlock, and one of the parkata urbatsu aerialists.
I don't know if the floor tile to the left is one of the bonuses or if it's stock, but it's certainly cool.

(UPDATE: this is from one of the two bonus punch-boards, so yes, it's VERY cool, and only available to Kickstarters or with pre-orders.)
If you're coming to GenCon Indy, we'll have the game there and you might just be able to play it with me. It's possible I'll also have the game with me at DeepSouthCon, depending on how quickly my Special Advance Shipping Author Copy arrives. Heck, I might even have it with me at the World Steam Expo in late May.

We played the prototype at Lunacon and everybody had a good time. My only regret is that the prototype still had all the old artwork. The next time I play this game it's going to look awesomer.
---
Now, a note in the interest of full disclosure:
We will be running a pre-order for book 8, Schlock Mercenary: Sharp End of the Stick, starting in May. Those books are also scheduled to ship in June. Sandra and I will not have copies of Capital Offensive in the Schlock store until September, however, which means those of you who simply must have the goodies that come with the pre-ordered game AND who must have sketch editions are going to have to place two separate orders. I'm sorry about that, but combining the book and board game pre-orders proved too complicated for us to manage.