Confession: I'm old enough to remember hearing all of the source music from Rock of Ages on the radio, and it wasn't an "oldies" station. I learned to play "Don't Stop Believin'" on the piano as a kid, and some of this music was what inspired me to study music in college. Yes, I was in a rock band in high school.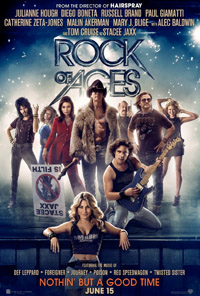 I loved
Rock of Ages
. It's a corny rock-musical with a romantic comedy at its heart, but I loved it anyway. It's not just a re-hashing of songs that my generation loved, either. Some of those songs are combined in musical numbers that punch up the meaning (not to mention the energy) of all the songs involved. My favorite was the merger of "Juke Box Hero" with "I Love Rock 'n Roll," but it's only my favorite by a narrow margin.
One big caveat: the movie throws a lot of skin on the screen, and a key element in the story is that sex corrupts, and can be itself corrupted. If portrayals of that sort of stuff make you uncomfortable then you should probably just stay home. (Note: If that stuff does not make you uncomfortable, do not call those of differing opinions "prudes" or anything else, especially not in the comments below. Tastes vary, and name-calling is always bad.)
Tom Cruise turned in a brilliant performance. Julianne Hough and Diego
Boneta
delivered great musical performances and solid physical work, but they didn't completely sell me on their lines. Oh well. It's a musical. Finally, Russell Brand was annoying, but it was the good kind of annoying where he bothered the people IN the movie rather than the audience.
This isn't one I'll take my kids to, and it's probably not one they'll ever grow up to enjoy, but I certainly had a good time.
It's #5 on my list for the year
.