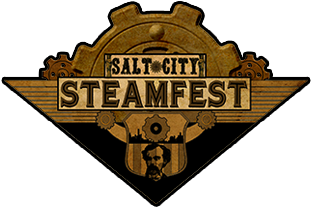 Not much time to blog. I'm heading north for Salt City Steamfest, and I haven't packed yet.

This is a first-year show, and tickets at the door are a paltry $20. Come say hello! See the costumes! Shop with the vendors! To my understanding there are already a few hundred folks pre-registered, so it promises to be quite the party, except using whatever word the retro-Victorians are using for "party."
I don't yet know how exactly I fit into the schedule. Follow howardtayler on Twitter for updates. I will have a couple of signings, and I'm bringing books and merch. I will not, however, have space in the dealer's room -- I'm just hanging my shingle for a couple of hours during the signings, so you'll need to be expeditious in your commission of commerce.