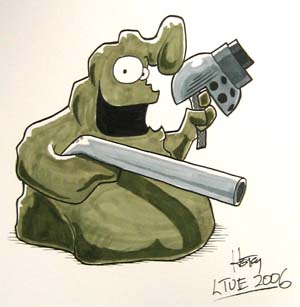 I'm posting from the bustling subdivisionopolis of Kuna, Idaho. Tomorrow we hit the road again for Seattle. I've got original strips for those of you who emailed me asking for 'em, and I've got all the requisite materials to create commissioned originals (like Schlock here!) for everybody else.
If you're interested in coming to SchlockFest Seattle (held at the Strohl Munitions World Headquarters) please subscribe to the Yahoo! group by sending a message to schlockmercenary-subscribe@yahoogroups.com and RSVP. You'll get the details for the event, which is happening Thursday evening before the convention.

If you're interested in coming to the convention itself (and you should be!) I've got a map to help you find all your favorite webcomicky professionals. I'll be with my Blank Label Comics homeys David Kellet, Kris Straub, Brad Guigar, and Greg Dean.(Click on the thumbnail to the right for a readable resolution.).