Pre-orders for Sharp End of the Stick are open! You knew this, right?
To help spread the word, I invited people to tweet, post, share, and blog, and we held some drawings. We also picked our favorite blog posts, so the event is an actual contest.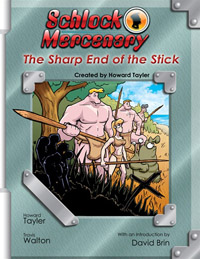 Our blog winners:
It was difficult picking favorites, let me tell you. Effusive praise is just so hard to not automatically give a prize to. But those are the top three. It was much easier selecting our random winners:
All the winners are getting numbered customer choice sketch editions of Sharp End of the Stick. Sam, Michael, Charlie, and Martin have only just now been notified of their good fortune. I hope this blog post makes them happy. Also, I hope it doesn't make any of the rest of you sad.
Yes, this means that now would be a good time to place your order, assuming you haven't already. And if you've never ordered a book from us before, what are you waiting for? These are wonderful tomes! Just ask any of the seven people in the list above.