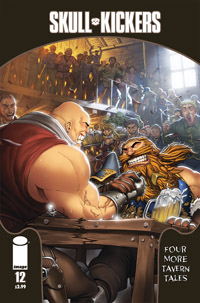 I've plugged Jim Zub's Skullkickers before. It's the fantasy comic I wish I had written.
Well, Zub let me write some.
My six page short story "Twang" will appear in Skullkickers Issue 12, "Four More Tavern Tales" alongside the work of several other creators, including Joel Carroll (Flight), Mike Luckas (he illustrated "Twang" for this book), Ben McSweeney (Joe is Japanese), Joe Ng (Street Fighter IV), Zach Weiner (Saturday Morning Breakfast Cereal), and Jim Demonakos & Kyle Stevens (Kirby Krackle).
Head down to your local comics shop and have them order a copy of Skullkickers #12 for you. The book comes out in October. That link has all the details. I can't promise that this will be a collectible, but this is the first time I've written for a comic that somebody else has drawn.
Oh, and while you're buying comics, you should definitely pick up Skullkickers Volume 1: 1000 Opas and a Dead Body, and pre-order Skullkickers Volume 2: Five Funerals and a Bucket of Blood. These are the trade paperback collections, and they'll get you all caught up. They're wonderful. Goofy, violent, and wonderful.