Schlocktoberfest is dead! Long live Schlocktoberfest!
A few years ago I realized that slaving a story to a calendar was not only difficult, it made for a weak story. So I stopped doing "Schlocktoberfest" and started simply writing what I wanted to write, putting pictures to it, and hoping that when it got around to airing it was what you folks wanted to read. The result? Better stories.
Some of you have looked at General Karl Tagon's arc, in particular this most recent installment, and suggested that I haven't abandoned Schlocktoberfest at all. I assure, you I have. That ghoulish face spewing nanomotile death at the viewer is something I've been planning to draw for quite a while, and it's nothing more than a happy accident that it showed up during October. I assure you, the current story, Random Access Memorabilia, is not mapped to the month of October. Halloween will come and go, but this story will continue.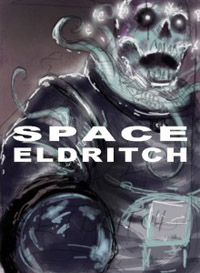 I don't want to leave you in the cold, however. I want you to have something genuinely spooky, creepy, or outright horrific waiting for you for Halloween -- in a good way, mind you. Not under your bed, or anything like that. I mean, unless that's where you leave your e-reader at night.
And so it is that I'm participating in the Space Eldritch anthology, a collection of seven brand new novelettes and novellas of Lovecraftian pulp space opera. Without putting too fine a point on it, they're science-fiction horror tales, and some of them have tentacles. The contributors and their contributions, alphabetically by author, are:
...with a foreword by
Larry

Correia
, and a delicious cover (shown here in progress) by Carter Reid.
The collection drops a week from now, on October
29th
, and the
ebook
will set you back $5.99. It will be available at Amazon, Barnes & Noble, and
Smashwords
for starters. Maybe some other places too (but probably not the Schlock Mercenary store. Don't look at me like that. I AM NOT ALWAYS MY OWN PUBLISHER.)
There are just three more things I think you should know. First, I did not draw any pictures. My contribution is entirely prose. I think
Cold Fusion Media
(the publisher) will have a sample up this week. Samples have already gone up from
D. J. Butler
and
Michael R.

Collings
.
Second, these stories are all stand-alone offerings, with their own respective settings. This means that if you really like "Flight of the
Runewright
," it's set in a universe I own, and which I would not be opposed to going back to, assuming any of it is left by the end of the tale.
Finally, my contribution is very different from
Schlock Mercenary --
VERY different -- in voice, in tone, and in intended audience. My kids love my comic, but I'm not letting them read "Flight of the
Runewright
." My oldest has looked at the outline and heard some of the critiquing sessions and decided she'll probably never read it at all.
But should you read it? I don't know. I really don't. But I suspect you want to (unless you're one of my kids reading my blog. Is your homework done yet?)
UPDATE! The first 2100 words of "Flight of the

Runewright

" can be found
here
. Larry

Correia

is organizing a book bomb, and you're invited to participate.