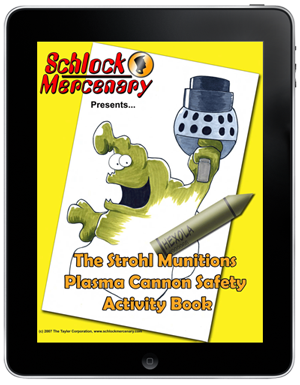 Gary Henson, our developer extraordinaire over at Plus 14, LTD, has done something delightful. He took the Strohl Munitions Plasma Cannon Activity Book and turned it into an iPhone and iPad coloring app.
If you're looking for a diversion that doesn't involve birds, pigs, and slingshots, look no further. The Strohl Munitions Plasma Cannon Activity Book, originally a 22-page PDF, is your new best friend during tedious meetings, boring chalk-talks, and redundantly-applied face-time.
It might also work to keep children occupied, but be warned: the messages in this book are just a tad insidious. Letting Strohl Munitions warn children away from plasguns is a little bit like letting Big Tobacco use comic books to tell children not to smoke cigarettes.
This app is $1.99, and runs on both the iPhone and the iPad.