Many of you are getting stuff from Sandra this year.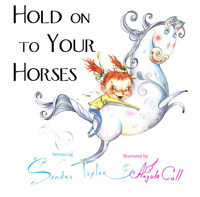 No, not Santa. SANDRA. Sandra Tayler, my wife, my partner, my friend, and the nice lady who packages and ships all of the books, calendars, board games, t-shirts, patches, magnets, and more that you order from the Schlock Mercenary store. Most of you probably associate my name, Howard Tayler, with all things Schlock Mercenary, but trust me when I say you wouldn't be getting any goodies if it weren't for Sandra.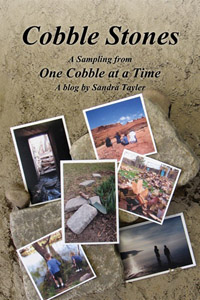 Most of you also don't know that Sandra is every bit as creative as I am. No, she doesn't draw sentient not-poop flying around in an armored bottle, but her childrens' book, Hold On To Your Horses, illustrated by Angela Call (read it free here), is delightful. Her essay collection, Cobble Stones is insightful, touching, and thought-provoking. Finally, Sandra's blog, One Cobble at a Time, is one of my very favorite things to read. (Admittedly, that's in part because it's how I find out what's going on in my house, but I think you'll enjoy it too.)
Sandra gets tangible evidence, every day, bound in cardboard and strapping tape, of how much you folks love my work. It makes her happy, because, as my alpha-reader, it's her work too. But that's not nearly as fulfilling for her as getting to package up one of her books for someone. As a fellow creative type, I completely understand.
So, if you're considering shopping with us before Christmas, be sure to look at Cobble Stones and Hold On To Your Horses. Also, be sure not to delay. The USPS "delivery by Christmas" deadlines are swiftly approaching.