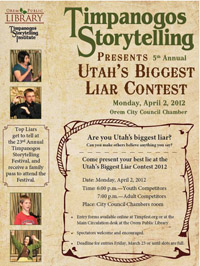 For the last couple of years I've been involved with the Utah's Biggest Liar competition, presented by the Timpanogos Storytelling Festival. Last year I emceed, and they asked me to do it again. It's in the Orem City Council chambers room, which is such an outstandingly brilliant place to admit to public prevarication that I cannot believe we haven't ALWAYS hosted the event here. Like, every time the council is in session.
(Yes, that joke was low-hanging fruit, but if it's wrong to pluck the local city council's low-hanging fruit I don't want to be right.)
Ahem... moving right along.
The event is a storytelling competition in the "tall tales" genre. Youth and adults will compete with short tellings of very long odds -- so long, in fact, that you might call their descriptions of events "vanishingly impossible."
My goal? All of my interstitial comments, those things I say between chasing one teller off the stage and introducing the next one, will be a single meta-tale that ties the whole mess together in a complicated lie that is so far beyond vanishingly impossible that it comes right back around into the realm of certainty.
I expect to fail spectacularly, but that won't prevent me from trying. My name is Howard Tayler, and I do difficult things.
Admission is free, but seating is limited.