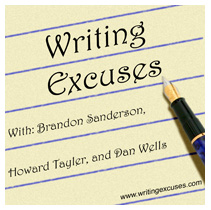 This week's Writing Excuses is one of our very best episodes to date (if not our flat-out best.) We discuss magic in fiction, and specifically we cover rules-based magic systems, their strengths, weaknesses, and where to use them.
It's one of those podcasts which makes me want to write fantasy books when I listen to it. That is saying a lot.
In completely unrelated news, I'm back from Leprecon 34, I owe you a con report with photos, and if you've pre-ordered shirts or mousepads, they'll be shipping out in about 10 days. It's not too late to buy some...