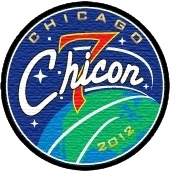 I'm in Chicago for WorldCon 70 (aka Chicon 7) all week. If you're at the show, come to the Dealer's Room in the Hyatt Regency and say hello! I plan to spend most of my time drawing, either in books you're buying from me, or on scripts destined for the infamous buffer. Yes, it's true... if you come to my booth there's a good chance you'll see me drawing a strip for late September.
Shirts, bottles, magnets, dice, and all sorts of other assorted kitsch schlock will be available for purchase, as well as books and book bundles, which I will sketch in at no charge. You might also talk me into a sketch-card commission, since I'll have my markers and other materials with me. These usually run from $20 to $50 depending on what you're asking me to lovingly render on the card.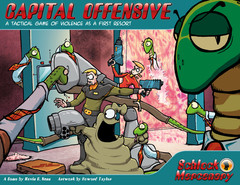 Also, in its debut at my booth, you can acquire copies of Schlock Mercenary: Capital Offensive, the board game that many of you supported on Kickstarter in November and December of 2011. The game did well at the APE Games booth at GenCon, but this is the first time I'll be selling it from my table.
Other than eight hours each day in the Dealer's Room, my schedule is relatively light. Apparently Chicago got the message that I will talk at great length given an audience and an opportunity, so in the interest of the public good they restricted my access to microphones and captive audiences.
Friday, August 31st
10:30am-noon, Addams : Silver West -- Designing Fantasy Animals & Monsters -- Howard Tayler, Barbara Galler-Smith, Jean Johnson, Rachel Neumeier, Daio
1:30pm-3:00pm, Columbus IJ : Gold East -- Money Flows Toward the Artist -- Alessandra Kelley, Jane Frank, Rowena Morrill, Howard Tayler
Sunday, September 2nd
3:00pm-4:30pm, San Francisco: Gold West -- Artists' Round Table, Part II -- Mark J. Ferrari, Alan F. Beck, Loren Damewood, Steven Vincent Johnson, Howard Tayler
8:00pm-10:00pm, Grand Ballroom -- The 2012 Hugo Awards Ceremony
This year marks my fifth and sixth Hugo Award nominations respectively -- once in the Best Graphic Story category for Schlock Mercenary: Force Multiplication, and once in the Best Related Work category for "Writing Excuses: Season 6." I'm honored to have been nominated, and thrilled for the opportunity to lose to pretty much any of the other folks on the ballot. Of course, if I win, I'll have access to a microphone and a captive audience. Fortunately for the public good, I'll be too stunned to exploit the opportunity properly.