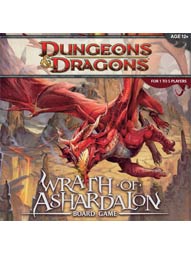 Last night our RPG group decided to try something different, so we invited Dan Wells to join us. He brought his reviewer's copy of Wrath of Ashardalon, and we all played what is essentially a board-game version of Dungeons & Dragons.
In brief, it's a speedy, gorgeous dungeon crawl with no role-play getting in the way.
If you've played D&D 4th Edition you'll recognize the elements that make up your character. It's much, much simpler, of course. You each select five powers at the beginning of the adventure, and that's the suite your characters are going to use through the whole game. There are five different characters for you to play, and the game supports up to five players.
It still plays fast with all five, too. We plowed through the basic monster-hunting adventure in about an hour, and did so while learning to play.
If you've played the Castle Ravenloft board game, this game uses the same mechanics with a few minor changes. I'm not sure, but I think the two can be combined. It's possible that you could use characters from the Ravenloft game to expand your party size in Ashardalon, and vice-versa. From what I observed, this won't change game balance significantly.
One caveat: There are several different adventure scenarios in this game, and they each require you to pre-sort the Encounter and Monster decks along with the Dungeon Tiles. The explanations of what to include and what to leave out were not clear to us in our hurry to get started, so The Red Dragon Ashardalon arrived early in an adventure that we're not sure he was supposed to be in. It was okay, though. Once we figured out how to combine our abilities we dropped him and moved on to the lesser challenges of his minions.
Wrath of Ashardalon releases on February 14th, and will be available at your Friendly Local Game Store, as well as online at Amazon.com. Castle Ravenloft is already available online and at stores near you.