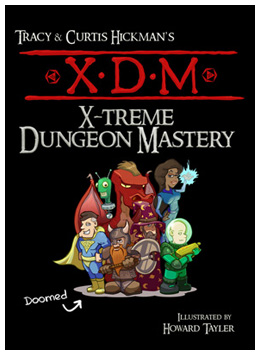 You may now pre-order your autograph edition of XDM: X-Treme Dungeon Mastery, by Tracy and Curtis Hickman, illustrated by Howard Tayler. Tracy Hickman is the co-creator of Castle Ravenloft and the popular Dragonlance series. His son Curtis is a practicing magician. And me? Me you probably already know.
If you play table-top role-playing games like D&D*, Rifts*, Shadowrun*, or GURPS* then XDM: X-Treme Dungeon Mastery is the best game supplement you can buy. Its principles will make anybody a better game-master, and will turn good game-masters into small gods. Its principles will also make for better players, so whether you're running a game or playing in one you will benefit from this book.
And if you just want to read it for the sheer entertainment value I promise you that it'll hold up just fine. This is not a dusty reference tome. This was written to be read, learned from, and above all enjoyed.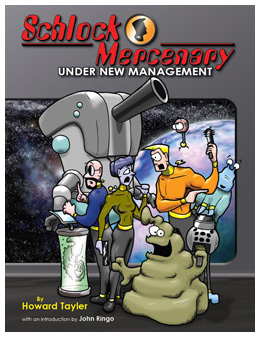 But that's not the only new thing in the Schlock Mercenary Store this morning. You may have heard that Under New Management has gone into a second printing. We've fixed the typos, tweaked the cover and spine, and are now opening pre-orders for numbered sketch editions. We only did 300 of those the first time around, so some of you may have missed out.
And that's STILL not where it ends. We also have Tagon's Toughs t-shirts coming back to the store, and a new shirt that I'm not going to spoil for you here. Why not? Because it uses a punchline that won't appear on in the comic until August. If you want to read it now, go window-shopping.
(*Note: D&D, Rifts, Shadowrun, and GURPS are all other people's trademarks, and they want you to know that.)