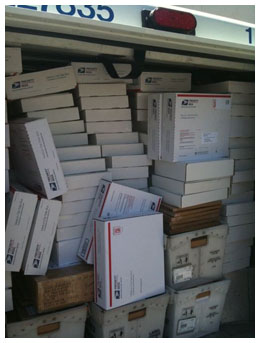 I was going to title this post "Your Book is in the Mail," but I used that exact post title on June 9th of 2009 when we shipped Scrapyard of Insufferable Arrogance. But the sentiment is the same.
At 1:30pm today your copy of Schlock Mercenary: Resident Mad Scientist was in this mail truck. We were quite surprised when the mailman got it all in there (the passenger seat was full, too.) It's amazing how motivated you can get when you realize that you're just a couple of cubic meters short of only having to make one trip. I can't say for sure that our mailman was a champion Tetris player, but I bet he'd do just fine if he only had to deal with four sizes of heavy rectangles.
It occurs to me that I misspoke earlier. Your copy of Schlock Mercenary: Resident Mad Scientist was only on that mail truck if you pre-ordered it. A very few of you got copies early at Balticon, and I have it on good authority that some of you haven't actually ordered it yet.
Well, it's not a pre-order item anymore. Order it, we ship it. And we've got other cool stuff in the store too, like those new vinyl stickers and a bunch of prints that are positively droll.
While thanks are clearly due to anyone who supports our ongoing adventure by shopping at the Schlock Mercenary store, we now owe special thanks to all the volunteers who helped with the shipping Monday morning. We made record time, and we couldn't have done it without your expertly rendered assistance. Thank you!